Born on Vancouver Island, Jason Grondin spent the first years of his life in and out of hospitals, coming close to dying on two occasions. His father was an engineer with the Department of Fisheries, and consequently was often at sea during Jason's early years.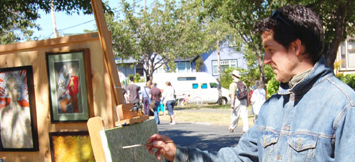 Jason was always interested in drawing, especially from his imagination. At age eight he left Vancouver Island with his Father, two brothers and an older sister to live and work on the Moosehorn Ranch near Williams Lake, BC. During this period of his life he began a deep appreciation and respect for nature. Having endured the cold winters and hot days of summer, they returned to Victoria. It had only been two years, but somehow everything seemed different and strange. During this period Jason was more comfortable on his own, spending most of his time (when he wasn't at school) being creative and riding his bicycle. His father returned to his life at sea and the children began living with their mother and her husband once again. Having moved some thirteen times, Jason finished High School at Oak Bay and found himself slowly becoming more at ease with people, in particular with his peers.
He returned to the interior of BC to work as a tree planter with one goal in mind; to make enough money to go travelling. After a summer of tree planting he returned once again to Victoria to become a window washer for a year. As soon as he had enough money he left for New Zealand, Australia, Cook Islands, Fiji, and Hawaii. This experience of traveling and exploring new cultures opened his heart and mind like nothing before. He had begun to realize just how important art and culture were to his soul.
After an amazing year of travelling and working as a grape picker and at various other jobs, Jason found himself back home with no money. Not sure what to do next, he enrolled in some classes at Camosun College, the history of Modern Art being one of  them. This class had a profound effect on Jason, giving him a better understanding and knowledge of the importance of art to societies, countries and the world. Still not realizing art would be his major focus in the years to come, he decided to try his hand at film making. He went to film school for one year learning the ins and outs of the industry, but ultimately the film industry was not for Jason. The big city life of a film maker was suddenly not so interesting. He continued drawing and during this time he decided to work towards a career in art.
"To flex one's imagination is to touch the very fibers of enlightenment."   Jason Grondin